Could Tuvalu Survive the Global Climate Change?
The island nation Tuvalu is the fourth smallest country in the world. It lies between Australia and Hawaii, in one of the most remote areas of the Pacific Ocean and stretches south of the Pacific to only 26 square kilometres.

This smallest country on earth consists exclusively of tropical reef islands and narrow coral atolls encompassing blue lagoons.

The following short article is about these islands, previously known as Ellice Islands. If you have any comment, or if you want to write about any other beautiful islands in the Pacific Ocean, please use the form on the bottom of the page. Thanks.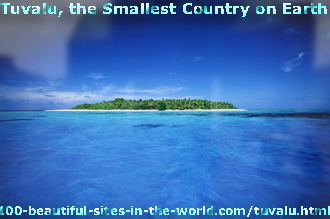 Twelve thousands people live on nine small islands here. They have a distinctive Polynesian culture and a traditional way of life, where each family has its own societal task to perform in the community such as fishing or building of houses.

Tuvaluan came from Samoa and Tonga to settle on the islands about 3,000 years ago. However, some evidence of fire in the Caves of Nanumanga may give indication of human living there before this date.

The islands were under British influence during the late 19th century and Tuvalu-islands were known as Ellice Islands. Britain administered those islands as protectorate from 1892 to 1916 and then the islands moved to be part of the Gilbert and Ellice Islands Colony from 1916 to 1974.

However, Ellice Islands voted for separation and born as Tuvalu with Funafuti as capital city. Then the country became fully independent within the Commonwealth in 1978.

The name Tuvalu means, "eight standing together". It is originated during the time that only eight of the nine islands were inhabited by people. However, in the future there might not be much to stand for it at all.

The highest point on the islands-group is just five meters above the sea level, which makes this country one of the most low-lying nations on Earth. The islands are extremely vulnerable to storms and changes in sea level as they have one of the most lowest maximum elevations in the world.

With an expected global sea-level rise by up to 60 centimetres at the end of the 21 century, the country will be flooded, and the intrusion of saltwater will damage farmland and important crops such as coconuts and the staple taro roots.

Rising sea temperatures and the accompanying acidification of the water will have a devastating impact on the country and may eventually end up killing the coral and destroying Tuvalu's essential coastal protection and the very foundation for life on the islands.

On top of all this hit the country is also affected by what is called "King Tide", which occurs when the tide rises to a higher level than normal.

Combined with the expected rise in global sea level, this could ultimately submerge the nation entirely, and may ultimately mean that the whole country inundated and that the people must immigrate to neighbouring countries such as Australia and New Zealand.


Useful Resources:

Time & Tide: The Islands of
Tuvalu - is a Pacific nation of low lying coral atolls and islands whose existence is threatened by climate change and rising sea levels. This large format, soft-cover, full-colour photographic essay will show the world what will surely be lost as sea levels rise: a unique culture and environment irrevocably erased.

This moody and evocative portrait of the tiny island nation is a foray into previously undocumented territory. Photographed by Peter Bennetts with text and interviews by Tony Wheeler, Time & Tide is a serenely beautiful and poignant story of our times.

Country Study Guide
- This study guide contains basic information on economy, government, business, history and geography, climate, traditions, people, places to visit. Provides information on government, political organizations, and more... Includes basic statistics, information on the most important business contacts and business travel.

A Strategic Assessment of Tuvalu, 2000 edition (Strategic Planning Series)
- The state has recently come to the attention to global strategic planners. This report puts these executives on the fast track.

Ten chapters provide:

- an overview of how to strategically access this important market,
- a discussion on economic fundamentals, marketing & distribution options, export and ...
direct investment options, and full risk assessments (political, cultural, legal, human resources). Ample statistical benchmarks and comparative graphs are given.


The Failures of Copenhagen Climate Summit!
You can use the small buttons on this page to share this page with your social media and bookmarks. Thank you.

Millionaire Match offers dating services for locals in these islands!

Get married with Tuvaluan marriage celebrations and do not forget to invite us to your marriage, or send us your marriage photos and videos, so we could take some Tuvaluan cheers for your health and that of yours!

Is there any wrong information about Tuvalu-islands? If so, please use the form to correct it. Many thanks.

See other pages about these islands and other beautiful places on the Pacific at www.100-beautiful-sites-in-the-world.com/beautiful-tuvalu-island.html, www.100-beautiful-sites-in-the-world.com/beautiful-tuvalu-islands.html and www.100-beautiful-sites-in-the-world.com/beautiful-kapingamarangi-island.html.

You can comment on this page or write about any other beautiful islands located on the Pacific Ocean. To do that, please use the following form and contribute to this page. Thanks.
Have A Great Story About Some Beautiful Sites in the World?
Do you have a great story about any beautiful site in the world? Share it!
What Other Visitors Have Said
Click below to see contributions from other visitors to this page...

You can also enjoy more activities here if you liked this page about Tuvalu-islands or Ellice Islands. Please share it with your services through the buttons here, at the left column of the page and at the bottom of the page. This could be also additional value to you, as you could experience some social networking technologies and know more.


I use "Solo Build It" tools at the bar below to empower this page about Tuvalu or Ellice Islands and the entire 100 Beautiful Sites in the World. Thanks to those strong website building and optimizing tools.
---
100 Beautiful Sites in the World| 100 Beautiful Sites Blog| 100 Beautiful Sights| About Us| Beautiful Site Map| Beautiful Scene Newsletter| Contact Beautiful Sites| Any Beautiful City| Forward 100 Beautiful Cities| User Interface| Beautiful Photo Exchange| Beautiful Picture Contest| Beautiful Sites Link Exchange| 350| Aarhus| Aegean Greek Islands| Aegean Sea| Altai Mountains| Amazon Rainforest| Amman| Archipelago Sea| Arctic Ocean| Battery| Bayan Olgii| Bay of Plenty| Beautiful Greek Islands| Beautiful Hotels in Orebro| Beautiful Orebro City| Beijing| Bering Sea| Big Sur| Boreal Forest| Borneo| Cape Floral Region| Caracas| Caribbean Sea Turtles| Chacaltaya| Chicago| Congo River Basin| Copenhagen| County Meath| Dalarna| Franz Josef Glacier| Ganges Delta| Gondar| Great Barrier Reef| Gujarat| Herschel Island| Hudson Bay| Ilulissat| Indus River| Kakadu| Kalahari Desert| Kauai| Kilimanjaro| Komodo Island| Kordofan| Lake Baikal| Lake Chad| Lilongwe| Madagascar| Mergui Archipelago| Mississippi River| Monteverde Cloud Forest| Naukluft Park| Niger Delta| North Slope| Norwegian Tundra| Nunavut| Nuwara Eliya| Okavango Delta| Olympia| Orebro Castle| Panama Canal| Paris| Perth| Quelccaya Ice Cap| Recife| Rio de la Plata| Ross Ice Shelf| Rotterdam| Rub al-Khali| Sagarmatha National Park| Saint Louis| Serengeti| Siberia| Solomon Islands| Sulu Sulawesi Sea| Thames| Tian Shan| Timbuktu| Tokyo| Trinidad| Tuvalu| Upper Po Valley| Valdes Peninsula| Vavau| Venice| Wadden Sea| Yamal Peninsula| Yangtze River| Zackenberg| Zahara de la Sierra|