Kauai Nature Colours the Cloud Forests!
In Kauai, the fourth largest island in Hawaii, you will find one of the wettest places on Earth with an average annual rainfall of 11,700 millimetres and you will hear the music the Hawaiian honeycreepers play while hiding in the Cloud Forests. They make the county a paradise on earth.

Large parts of the mountainous Kauai are shrouded in clouds. Moist trade winds from the Pacific Ocean sweep in over the mountainous landscape, falls and clouds hovering right over the peaks and create lush and mossy forests.

The following article is about this county including briefs on other parks and reserves. If you have more information about these beautiful and sight catching and breathe taking sites, please write it in the form below. You can also use that form to answer the questions at the bottom of the page and receive good gifts. Thanks.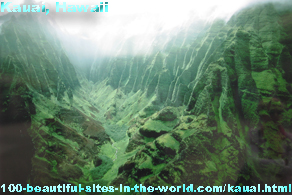 Such reserves bring the Hawaii islands to the top of the world's tourism industry. As Hawaii comprises of many islands, there are main eight islands in the state, which lie in the central Pacific Ocean in an area of 6,423 square miles and 1,275,194 people only inhabit most of these islands

Beautiful sites and attractions scattered in all directions and they include rich forestry and wildlife in the following tourism attractions:

Pu'u Ka Pele Forest Reserve at the west,
Alakai Wilderness Preserve at the south,
Na'pali-Kona Forest Reserve at the south west,
Lihue-Koloa Forest Reserve at the south and east,
Koke'e State Park and Na Pali Coast State Park at the north-west,
Moloa'a Forest Reserve and Mamalahoa Forest Reserve at the north east.

There are big islands in Hawaii such as Lanai, Maui, Molokai and Oahu. Hawaii comprises also of five counties respectively mentioned here by their wideness, such as Hawaii County, 5,087 square miles, Honolulu County, 2,127 square miles, Kauai County, 1,266 square miles, Maui County, 2,399 square miles and Kalawao County, 52 square miles.

There is a rich life of beautiful birds in the islands. Numerous birds, more than hundred species make the richest zoogeographic scene in the world, enrich the beautiful forests by colours and sounds, and make them an entire paradise on earth.

Among those birds are Hawaiian geese, ducks, swans, siskin, cowbirds, sparrows, grackles, crows, pigeons, doves, cuckoos, eagles, parrots, sandgrouse, chukar, Christmas shearwater, Hawaiian hawk, black-crowned night heron, laysan rail, semipalmated sandpiper, Pacific golden plover, yellow-billed cuckoo and Hawaiian honeycreepers.

The beautiful and colourful Hawaiian honeycreepers live high in the cloud forests, where the climate is cool. They are endemic birds of Hawaii. These rare birds use their long, curved beaks for sipping nectar from flowers while hovering in the air like hummingbirds and generate musical sounds from nasal whining as clear as flute call.

The species of honeycreeper in Hawaii live in altitudes above 1,500 metres where the climate is too cool for mosquitoes. Most of the Hawaiian honeycreepers are only 10-13 centimetres long and weighs no more than 8 grams, and they are very vulnerable to diseases such as bird malaria.

The Cloud Forests in Hawaii make one of the ecosystems on Earth that is most sensitive to climate change. Even relatively small shifts in weather patterns can cause large local changes that will strain the islands' special ecosystem.

Because of deforestation and non-indigenous species such as pigs and goats, the Hawaiian honeycreeper's habitat has been seriously reduced in recent years and they are now endangered species.

With the expected future temperature rise, mosquitoes will probably have a foothold in the higher elevations in the Kauai Mountains and slowly drive Hawaii honeycreeper out of the fog forests.

Did you know anything important about Kauai or any island in Hawaii?

You can use this form to provide such kind of information and receive invaluable e-books good for reading, for just answering any of these questions. Yes, of course you should provide names, numbers and other facts when you answer:

Is the statistic in this page correct?
How many islands are in Hawaii?
How many people live in Hawaii?
How many site attractions are in Hawaii?
How many tourists visit Hawaii every year?
How many kilometres or miles large is Hawaii?
How many hotels, restaurants, parks, reserves etc … are in Hawaii?
What kinds of plant, animal and bird species are in Hawaii?
What kinds of entertainment people experience in Hawaii?

Thank you for contributing to this page about Kauai, the Hawaiian Paradise! It is good idea to leave your email address so you can receive any reply to your comments.

PLEASE BE ASSURED, no one of the commentators will capture your email address. It is only that the system that will send you notifications about replies to your comments, as this process is automated.

I have some gifts for you too for sharing your words about any beautiful location on Kauai, the Hawaiian Cloud Forests! and the affects of global warming on those beautiful locations. Thanks.
Have A Great Story About Some Beautiful Sites in the World?
Do you have a great story about any beautiful site in the world? Share it!
Search inside Kauai County, Cloud Forests, Honolulu, or the entire Hawaii Islands.


Here are some links to other cloud forests and other forests in the 100 beautiful sites in the world such as Boreal Forest and Monteverde Cloud Forest.

You can also enjoy more activities here if you liked this page about Kauai, the Hawaiian Cloud Forests.

Please share it with your services through the buttons here, at the left column of the page and at the bottom of the page.

This could be also additional value to you, as you could experience some social networking technologies and know more. Click on "Enjoy this page? Please pay it forward" at the bottom to know how to link to the website.


I use "Solo Build It" tools at the bar below to empower this page about Kauai, the Hawaiian Cloud Forests and the entire 100 Beautiful Sites in the World. Thanks to those strong website building and optimizing tools.
---
Home| 100 Beautiful Sites Blog| Beautiful Site Map| Beautiful Scene Newsletter| 350| Amman| Archipelago Sea| Bayan Olgii| Big Sur| Boreal Forest| Borneo| Cape Floral Region| Caracas| Chacaltaya| Congo River Basin| Copenhagen| County Meath| Dalarna| Franz Josef Glacier| Ganges Delta| Gondar| Ilulissat| Indus River| Kauai| Kilimanjaro| Kordofan| Lake Chad| Lilongwe| Madagascar| Mergui Archipelago| Monteverde Cloud Forest| Naukluft Park| Niger Delta| Norwegian Tundra| Okavango Delta| Olympia| Panama Canal| Paris| Perth| Quelccaya Ice Cap| Recife| Rio de la Plata| Rotterdam| Rub al-Khali| Sagarmatha National Park| Saint Louis| Solomon Islands| Sulu Sulawesi Sea| Thames| Tian Shan| Timbuktu| Tokyo| Trinidad| Tuvalu| Upper Po Valley| Valdes Peninsula| Vavau| Yamal Peninsula| Yangtze River| Zahara de la Sierra|