Quelccaya Ice Cap is An Awe-Inspiring Sight!
When you see it from above, is Quelccaya Ice Cap an awe-inspiring sight of massive ice fields and blue-white glaciers at an average altitude of 18,600 feet. It is the largest ice masses in the tropics. The ranges of those Andes Mountains have different names in many countries in the tropical area of Latin America.

Quelccaya Ice Cap at the top of the Cordillera Oriental range of the Andes dwindles because of climate change. This beautiful source of fresh water for drinking, agriculture and electricity is melting very fast.

The following article is about this ice cap in Peru. If you have more information about it, please use the form at the bottom of the page to share it. I will reward you for this by some e-books good for reading. You can contribute to the linked pages here as well. Thanks.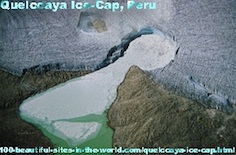 Quelccaya Ice Sheet covers an area of 44 square kilometres in the Cordillera Oriental mountain range, central of the Andes in southern Peru. The complete area of the glacier in Peru has shrunk from 2042 square kilometres in the last decades.

The Cordillera Oriental range stretches to include Peru, Bolivia, Argentina and Colombia. Read about all of those beautiful locations in Latin America descending through those countries:

¤ Costa Rica where Monteverde Cloud Forest lies,
¤ Panama, where Panama Canal lies,
¤ Venezuela where Caracas lies,
¤ Peru where Quelccaya Ice Cap lies,
¤ Brazil where Recife lies,
¤ Bolivia where Chacaltaya melted completely,
¤ Uruguay where Rio de la Plata lies,
¤ Argentina where Valdes Peninsula lies.

The other Latin countries, Colombia, Ecuador and Chile will be covered soon. Until then, why not bring in beautiful pictures, write about any beautiful place, village and city on those countries through the form on Any Beautiful City, and receive some useful gifts?


Peruvian-Danish fashion model, beauty queen and photographer Helena Christensen speaking to demonstrators in Copenhagen Climate demonstration 12/12/2009.


Tropical rainforests under the range of those shared mountains stretch on and over some of the heights in the area.

The ice has dominated the Andes peaks for thousands of years and has provided large and small rivers with water.

Quelccaya Ice Cap feeds some important rivers in Peru. Rivers run in the country include Rimac River, Mantaro River, Santa River, Urubamba River (Vilcanota), Ucayali River, Madre de Dios River, Tambopata River, Apurimac River and Huallaga River.

The vast quantities of ice on the Quelccaya Ice Sheet have equipped researchers with useful rich data on precipitation and temperatures since 1,500 years back in time.

Scientists have studied it and it enabled them to identify and calculate the annual snowfall from the earliest Andean civilizations.

Runoff from Quelccaya Ice Cap is vital for large parts of the Peruvian population. Farmers use the water of the mountain glaciers to irrigate their crops. They grow wheat and potatoes and Peruvian farmers cultivate considerable quantity of potatoes.

The Quelccaya Ice Cap also feeds dams by water and in big cities like Cuzco and Lima icecap provides residents with drinking water and electricity through hydroelectric dams.

By now, around two million people out of Lima's nearly nine million people live without access to public free and fresh water supply. Therefore, they are forced to buy water and pay high prices for it every day. They will be the first who experience the effects of water shortages.

Quelccaya Ice Sheet is no longer an inexhaustible water resource. It lost 20% of its area since 1978, and the rate of the decrease is accelerating. The once stable water flow has been erratic.

Within the next 30-50 years, the Quelccaya Ice Cap will probably completely disappear due to global warming. It will leave millions of Peruvians without a reliable water supply and the Andes peaks will be without their white beautiful cover.

Do you have more information about any of those beautiful areas? Bring it in through the form and receive invaluable e-books to read for knowledge or to use and benefit from them.

You can either comment on this article about Quelccaya Ice Cap at the top of the Cordillera Oriental range in Peru, or write your own.

To do so, please use the following form and contribute to this page. It is good idea to leave your email address so you can receive any reply to your comments.

PLEASE BE ASSURED, no one of the commentators will capture your email address. It is only that the system that will send you notifications about replies to your comments, as this process is automated.

I have some gifts for you too for sharing your words about any beautiful location in the Cordillera Oriental range in Peru, and the affects of global warming on those locations. Thanks.
Have A Great Story About Some Beautiful Sites in the World?
Do you have a great story about any beautiful site in the world? Share it!
What Other Visitors Have Said
Click below to see contributions from other visitors to this page...

Peruvian Models Could Escalate Melting of the Glaciers!

You have forgotten to mention that this Peruvian girl is sex model and striptease in many pictures too. Am I right? That is what I read and saw in some …
Search inside Peru, Bolivia, Argentina and Colombia.


You can also enjoy more activities here if you liked this page about Quelccaya Ice Cap at the top of the Cordillera Oriental range in Peru.

Please share it with your services through the buttons here, at the left column of the page and at the bottom of the page.

This could be also additional value to you, as you could experience some social networking technologies and know more. Click on "Enjoy this page? Please pay it forward" at the bottom to know how to link to the website.


I use "Solo Build It" tools at the bar below to empower this page about Quelccaya Ice Cap at the top of the Cordillera Oriental range in Peru and the entire 100 Beautiful Sites in the World. Thanks to those strong website building and optimizing tools.
---
100 Beautiful Sites in the World| 100 Beautiful Sites Blog| Beautiful Site Map| Beautiful Scene Newsletter| Contact Beautiful Sites| Any Beautiful City| 350| Aarhus| Aegean Sea| Altai Mountains| Amazon Rainforest| Amman| Archipelago Sea| Arctic Ocean| Battery| Bayan Olgii| Bay of Plenty| Beijing| Bering Sea| Big Sur| Boreal Forest| Borneo| Cape Floral Region| Caracas| Caribbean Sea Turtles| Chacaltaya| Chigao| Climate Demonstration| Climate March| Congo River Basin| Copenhagen| Copenhagen Climate Change| Copenhagen Climate Demonstration| County Meath| Dalarna| Franz Josef Glacier| Ganges Delta| Gondar| Great Barrier Reef| Gujarat| Herschel Island| Hudson Bay| Ilulissat| Indus River| Kakadu| Kalahari Desert| Kauai| Kilimanjaro| Komodo Island| Kordofan| Lake Baikal| Lake Chad| Lilongwe| Madagascar| Mergui Archipelago| Mississippi River| Monteverde Cloud Forest| Naukluft Park| Niger Delta| North Slope| Norwegian Tundra| Nunavut| Nuwara Eliya| Okavango Delta| Olympia| Panama Canal| Paris| Perth| Quelccaya Ice Cap| Recife| Rio de la Plata| Ross Ice Shelf| Rotterdam| Rub al-Khali| Sagarmatha National Park| Saint Louis| Serengeti| Siberia| Solomon Islands| Sulu Sulawesi Sea| Thames| Tian Shan| Timbuktu| Tokyo| Trinidad| Tuvalu| Upper Po Valley| Valdes Peninsula| Vavau| Venice| Wadden Sea| Yamal Peninsula| Yangtze River| Zackenberg| Zahara de la Sierra|