The Fearful Beauty of Rub al-Khali!
Rub al-Khali means "Empty Quarter". Fearful beauty could possibly impress a person who sees this desert.

It is the world's largest uninterrupted sand sea. Covering 650,000 square kilometres, Rub 'al-Khali is almost the size of Texas.

It is one of the most extreme environments on the planet. Most of the desert lies in Saudi Arabia and the rest spread into Yemen, Oman and the United Arab Emirates.

Here is a short article about the Empty Quarter, some people call Mars on Earth... in addition to useful information about Saudi Arabia from some sources.

If you found this page useful, please share it. If you knew more information about the Empty Quarter, or if you had seen the fearful beauty there, use the form at the bottom of the page to write about it. Thank you.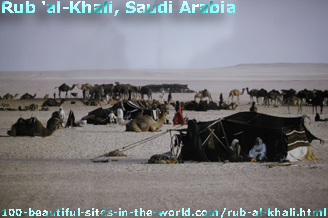 For several centuries, proud Bedouin communities have been the only people with the skills to survive in Rub al-Khali's wild desert.

In general, they found it enjoyable to lead such life in the desert, although the desert lies in an area that is symbolic as an arid to extremely arid belt.

However, some Bedouin have now settled in cities, while others still maintain traditional nomadic lives in tents.

Those are very simple people, who love their environment and have sympathy enjoying social relations with each other out of the noise of the crowded cities.

Saudi Bedouin live there on meat and milk from their stock of sheep, goats and camels.

They use their dromedaries for transport. Some of them only get out of there to get into small and big pilgrimage, (Omra and Haj).

There are no permanent human settlements in the Rub al-Khali, and few people have ever crossed the desert.

In summer, temperatures reach over 50º C, making it one of the hottest and driest places in the world.

Over time, wind patterns have shaped the sand dunes. The sand dunes reach heights of 300 meters.

The winds have created also a surreal landscape that looks like Mars on Earth.

Even in this harsh climate, life flourishes. The vegetation, which mostly consists of scattered herbs, shrubs and weeds provide Bedouin's livestock with food.

Recently, the science expeditions have identified 31 new plant species and varieties and 24 species of birds. This has led the researchers to rename Rub al-Khali, or the Empty Quarter "The Valuable Quarter".

In addition, gazelles, oryx, sand cats, and spiny-tailed lizards are just some of the desert-adapted species that survive in this extreme environment, which features everything from red dunes to deadly quicksand.

The delicate ecosystem of the Arabian Desert is particularly vulnerable to climate change. Even a small temperature increase will lead to increased evaporation, which will reduce surface moisture, and overload the already scarce water resources.

At the end of this century, average annual temperatures are projected to increase by 4-5º C, which could wipe out the already scarce vegetation and endanger the remaining Bedouin societies.

Useful Resources

Rub al-Khali - Arabian Desert

The Arabian Desert is a vast desert wilderness stretching from Yemen to the Persian Gulf and Oman to Jordan and Iraq. It occupies most of the Arabian Peninsula with an area of 2,330,000 square kilometers (900,000 mi²).

At its center is the Rub al-Khali, one of the largest continuous bodies of sand in the world. Gazelles, oryx, sand cats, and spiny-tailed lizards are just some of the desert-adapted species that survive in this extreme environment, which features everything from red dunes to deadly quicksand.

The climate in Rub al-Khali is extremely dry, and temperatures oscillate between extreme heat and seasonal night time freezes. It is part of the Deserts and xeric shrublands biome and the Palearctic ecozone.

This ecoregion holds little biodiversity, although a few endemic plants grow here. Many species, such as the striped hyena, jackal and honey badger have become extinct in this area due to hunting, human encroachment and habitat destruction.

Other species in Rub al-Khali have been successfully re-introduced, such as the sand gazelle, and are protected at a number of reserves. Overgrazing by livestock, off-road driving, human destruction of habitat are the main threats to this desert ecoregion.

Bedouins of the Empty Quarter

This volume describes Bedouins, a tribal pastoral people in eastern Saudia Arabia. This volume documents changes in their way of life, beginning in the 1930s and continuing to the 1960s, when this book originally appeared.

The Empty Quarter or Rub al-Khali described here is a place inhabited by a people so thoroughly devoted to their pastoral pursuits that they are referred to as nomads of the nomads.

To the "I Murrah" and other camel-keeping pastoralists, theirs is a rich and rewarding life. For either to survive, men and camels must live in close symbiosis.

The camels provide food, fiber, and transport; man provides knowledge of available resources, of which the most precious are water and the grasses that grow where rains have fallen. In this work, Donald Powell Cole shows us that this existence more complex and intricate.

There is the complex knowledge of the desert itself, its varieties, moods, and resources. Next, there is the knowledge of the camels, their needs, capacities, and the peculiarities of each animal. These different kinds of knowledge must be brought together to fully use, yet carefully conserve, scarce resources.

As important is the structuring of social life. The tribesmen must have a flexible social system that enables the individual household to operate alone when the environmental situation requires. This necessitates a pattern of independence and equality.

The "I Murrah" live according to ancient traditions, but life is not unchanging. In 1932, Saudi Arabia became a nation and intertribal raiding and warfare was brought to an end.

Cole highlights the adaptability of the "l Murrah" as the desert became increasingly invaded by motor transport and oil rigs.

He sees their experience as prototypical: man everywhere must attune his life to the requirements of his economy. In a place like the Arabian Desert these adjustments are most insistent.

This work shows that even when these demands of the external world pervade behavior, life can remain rich and rewarding.

Arabian Deserts: Nature, Origin and Evolution

Arabian Deserts provides a comprehensive coverage of all the deserts of Arabia largely based on the author's experience in Arabia over the last fifty years.

It deals with every type of desert found there, including those formed by great sand seas, dunefields, evaporites, clay pans, stony plains, volcanic flows, desert plateaux and mountains, deltas, and desert islands.

Distinctive landforms of Arabia deserts are described, together with their geological setting and the influence of climates both past and present.

The six great sand seas of Arabia are emphasized since Ar Rub al-Khali Desert forms the world's largest continuous sand desert.

Sources, sedimentology, and the mechanisms of formation of these great sand deserts are examined. Distinctive sand dunes and interdunes types found in Arabia are described, classified and explained.

Fluvial processes are discussed, as well as the many oases, and lake deposits formed in milder, more humid intervals. Extensive areas of black, basaltic, volcanic desert are described covering three times the area of Belgium.

Ecology of Arabia and human influence on desertification are outlined. Climatic changes in the evolution of Arabian deserts during the Quaternary and their causes are explained and a chronology of climatic events during their formation is established.

This book with the included CD will be of interest to geoscientists, especially Quaternary geologists, geomorphologists, geographers, sedimentologists interested in aeolian and fluvial processes, climatologists, coastal studies groups, desertification interest groups, and ecologists with interest in arid lands.

Included is a CD-ROM containing high quality full color versions of photos and figures which are printed in black and white in the book itself.

Arabian Deserts: Nature, Origin and Evolution


Vegetation of the Arabian Peninsula

Vegetation of the Arabian Peninsula is the first comprehensive book on all aspects of the vegetation, phytogeography and conservation of the vast and varied region of the Arabian Peninsula.

Written and edited by experts on the botany and environment of the Peninsula, this book synthesises the information available on all aspects of the flora and vegetation (including lower plants), from the mountains, sand seas, coasts, water bodies and desert plains to the plants of economic importance.

The book contains chapters on the vegetation, ecology and phytogeography of the mountains, wadis, sand deserts, gravel plains, coasts and sabkhas. Chapters on climate and geology provide the background information for understanding the dynamics of the vegetation.

A chapter on the diversity of plants gives details of the region's species richness and endemism, current threats to plant diversity and the measures taken in the form of protected areas and legislation in each country of the Peninsula.

This book will be an invaluable reference for students, scholars and professionals interested in Southwest Asian botany.

Have you been in Rub al-Khali or any beautiful place in Saudi Arabia?

Did you know more information about Saudi Bedouin? Use the form below to share it on this website.

I invite Saudi people to write about their fearful beauty in Rub al-Khali, Mars on Earth, or about any other beautiful place in Saudi Arabia.


Have A Great Story About Some Beautiful Sites in the World?
Do you have a great story about any beautiful site in the world? Share it!
If you found this page about Rub al-Khali in Saudi Arabia useful, please share it with your services through the buttons below, or at the left column of the page or at the bottom of the page. If you do not have a service there, register for one free service and enjoy this kind of technology and social networking experiences. Thank you.


"Solo Build It" at the bottom bar empowers this page about Rub al-Khali in Saudi Arabia and the entire website.
---
100 Beautiful Sites in the World| 100 Beautiful Sites Blog| Beautiful Site Map| Beautiful Scene Newsletter| Contact Beautiful Sites| Any Beautiful City| Forward 100 Beautiful Cities| 350| Aarhus| Aegean Sea| Altai Mountains| Amazon Rainforest| Amman| Archipelago Sea| Arctic Ocean| Battery| Bayan Olgii| Bay of Plenty| Beijing| Bering Sea| Big Sur| Boreal Forest| Borneo| Copenhagen| County Meath| Franz Josef Glacier| Ilulissat| Monteverde Cloud Forest| Naukluft Park| Niger Delta| Norwegian Tundra| Okavango Delta| Olympia| Paris| Rub al-Khali| Rio de la Plata| Upper Po Valley| Yamal Peninsula| Zahara de la Sierra| User Interface