Mississippi River is a Cultural Ego!
I had excitement and I impressed by the Mississippi River while I was in the intermediate school through many imaginary visits my classmates and I had taken to those real places while learning Geography.

That was the time the educational curriculum was great in Sudan and taught the students great deal of information about the world starting from home to the neighbouring countries and then to the world.

The following article is about the Mississippi River Delta in Louisiana. However, there is a side bar included to flash back to the time that I knew the entire world since I had been students in the elementary school through strong educational curriculum.

You are welcome to comment on it or write your article about the river or any mentioned place on this page. I have some invaluable gifts for you just for your contribution to this page. Thanks.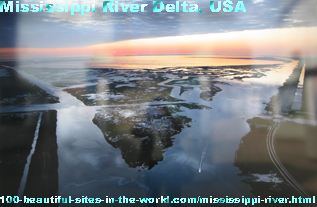 The curriculum has a progress according to the ages of students and it followed until the high secondary school.

However, military and religious dictators remade it through the following decades to reflect a tide horizon of ignorance and (donkeynize) the new generations.

Read about the fabric of ignorance in the HOA Political Scene website here. This will open a new window to come and continue this article about the Mississippi River. I may write later more details about the cultural ego of the Mississippi.

We had for example subjects that cover imaginary visits to imaginary friends in those areas like Sideeq Abdul Rahim in Algolid a northern town in Sudan, Mango Zambidi in Yambio a southern town in Sudan and another two friends in eastern and western Sudan.

In addition, there are many imaginary friends we visited in the neighbouring countries and the world such as Ahmed in Egypt, Frank in England (yes, because Sudan had been a colony to both of them), where the Thames River runs; Sanchu in Argentina, where the Valdes Peninsula lies; Villam in Holland, where Rotterdam lies; and Greenwich in Switzerland.

We visited also Afo in China (and we loved communism that time), where Yangtze River runs; Sacho in India (and we loved Mahatma Ghandi and Nehru), where the Ganges River runs; beside some other friends in different countries and we went more international in thoughts.

During the time, I began my writing carrier as Arabic writer, I had another excitement and I impressed reading almost all of Richard Rights' books following some of his characters through the great Mississippi River.

Therefore, the Mississippi River in my mind is not just a river, but is also a cultural environment that creates besides flourishing lands, an effective ego of its own in literature and arts in general. The Mississippi River creates beautiful sites in Louisiana besides being a literary influence!

Mississippi River called also the Great River and the Big River runs 3,700 kilometres southward from its source in Lake Itasca in Minnesota before it reaches Louisiana and flows out into the Gulf of Mexico.

Here, the Mississippi River delta occupies about 25,000 square kilometres of humid subtropical landscape of rivers, fresh, salt marshes, and low-lying barrier islands, which is home to several species of bird, fish, shellfish and other small mammals.

In Louisiana, the Atchafalaya River is the main distributary of the Mississippi River and many communities live in villages, towns and cities such as Waterproof, Morganza, New Roads, Baton Rouge, Donaldsonville, Lutcher, New Orleans and La Balize.

There are about 1.2 million people living in the city of New Orleans on the banks of the Mississippi River. On average, New Orleans is 0.5 meters below sea level.

The lush delta is of great commercial importance for the New Orleans area, which is the second in the United Sates of America in regards to fisheries production. It also delivers 16-18% of the American oil supply.

On the outskirts of the delta, at the eastern end of the State of Louisiana, the Chandeleur Islands in that location make a chain shaped like a crescent moon. The islands are changing with the wind, tropical storms and tides, and the dynamic landscape is home to endangered species like the brown pelican.

In his presidential term in 1901-1909, the U.S. President Theodore Roosevelt was deeply involved in the preservation of the islands' wild nature. Recently (yesterday, in regards to the time I published this page), Louisiana Gov. Bobby Jindal declares a state of emergency because of the forecasted conditions of Hurricane Ida.

Well, I always feel that there is something absolutely going wrong in this world and those who know it in the decision-making circles are not capable to make a decision and implement necessary steps to stop it. There is always a cause behind the disasters.

Along with Delta's wetlands, the Chandeleur Islands form a buffer area against hurricanes and storm surges for Louisiana residents. Great storms have already increased along the U.S. Atlantic Coast and the Gulf Coast, and everything indicates that this is due to climate change.

After Hurricane Katrina in 2005, the Chandeleur Islands was reduced to half their size, and large areas of wetlands and swamps were severely reduced. It is expected that future storms and hurricanes will become ever stronger.

To top it, global warming has caused the rise in sea level and that in turn has slowed the rate of natural recovery of the coastal areas. It makes Louisiana's mainland even more exposed to flooding and can have serious consequences for both the characteristic ecosystems, and Louisiana's population.

You can either comment on this article about the Mississippi River Delta and this Big River in Louisiana and New Orleans or write your own. To do so, please use the following form and contribute to this page. It is good idea to leave your email address so you can receive any reply to your comments.

PLEASE BE ASSURED, no one of the commentators will capture your email address. It is only that the system that will send you notifications about replies to your comments, as this process is automated.

I have some gifts for you too for sharing your words about the Mississippi River Delta and this Big River in Louisiana and New Orleans and the affects of global warming on that area. Thanks.
Have A Great Story About Some Beautiful Sites in the World?
Do you have a great story about any beautiful site in the world? Share it!
Search near Mississippi River Delta and inside Louisiana and New Orleans.


You can also enjoy more activities here indeed if you liked this page about Mississippi River Delta and this Great River in Louisiana and New Orleans.

Please share it with your services through the buttons here, at the left column of the page and at the bottom of the page.

This could be also additional value to you, as you could experience some social networking technologies and know more. Click on "Enjoy this page? Please pay it forward" at the bottom to know how to link to the website.


I use "Solo Build It" tools at the bar below to empower this page about Mississippi River Delta and this Big River in Louisiana and New Orleans and the entire 100 Beautiful Sites in the World. Thanks to those strong website building and optimizing tools.
---
Home| 100 Beautiful Sites Blog| Beautiful Site Map| Beautiful Scene Newsletter| 350| Amman| Archipelago Sea| Arctic Ocean| Bayan Olgii| Big Sur| Boreal Forest| Borneo| Cape Floral Region| Caracas| Caribbean Sea Turtles| Chacaltaya| Congo River Basin| Copenhagen| County Meath| Dalarna| Franz Josef Glacier| Ganges Delta| Gondar| Ilulissat| Indus River| Kalahari Desert| Kauai| Kilimanjaro| Kordofan| Lake Chad| Lilongwe| Madagascar| Mergui Archipelago| Mississippi River| Monteverde Cloud Forest| Naukluft Park| Niger Delta| Norwegian Tundra| Okavango Delta| Olympia| Panama Canal| Paris| Perth| Quelccaya Ice Cap| Recife| Rio de la Plata| Ross Ice Shelf| Rotterdam| Rub al-Khali| Sagarmatha National Park| Saint Louis| Solomon Islands| Sulu Sulawesi Sea| Thames| Tian Shan| Timbuktu| Tokyo| Trinidad| Tuvalu| Upper Po Valley| Valdes Peninsula| Vavau| Yamal Peninsula| Yangtze River| Zahara de la Sierra|