Upper Po Valley in Italy! A Beautiful Site to See
The Upper Po Valley in Italy is one of those 100 beautiful sites in the world. It looks very beautiful from this picture.

The nature is rich and the beautiful site of the Po River valley is a pleasure for tourists to see when they visit historical and other beautiful locations in Italy such as Venice.

However, the information here is not for a tourism purpose. It is only general information about the valley.
Have you been at this beautiful location?
Did you know anything about the valley?

If you knew more information about this valley, or if you had been there, please use the form at the bottom to write about it.

I have some valuable gifts for you just for doing this. Thank you so much.

Moreover, you may just take a passion from this page to do something useful about it. I'll explain that in few minutes when you finish reading those lines about this place. Let us go for a talk about it.
Upper Po Valley is the Source of Italian Rice!
Principato di Lucedio, Upper Po Valley in Italy!

The great Po valley in northern Italy has been the cultivation source of the Italian rice since the ancient Etruscan and Roman times.

With melt water from glaciers in the Alps, the Po River and its 25 tributaries irrigate the great huge plain of the Po valley, also known as "Italy's granary" or the breadbasket of Italy.

Ever since the Middle Ages, an extensive vast irrigation system built up of canals has diverted water from rivers and distributed it to many parts of the Po valley.

Italy is Europe's largest rice producer, and rice is an important prominent crop in the Po valley, along with soybeans, corn and wheat.

Therefore, local people are more likely to eat risotto than pasta. In addition, risotto considered here, in contrast to the rest of Italy, a more general business than pasta.

Lucedio Monastery -- also called Lucedio Abbey or Abbazia di Santa Maria di Lucedio in Italian -- is a twelfth century Cistercian foundation near Trino and it is founded by Cistercian monks in Upper Po-valley in the Piedmont region in 1123. It was the cradle of Italian rice production in the province of Vercelli.

The original octagonal bell tower from around 1200 is still on the old convent ground beside the recent renaissance and baroque buildings, which reflected in the water reservoir, formed by dams, and then curbed from the river to provide water for modern rice production.

Over the past 225 years, the property has been in the hands of various Italian aristocrats, including Napoleon's brother-in-law, Prince Camillo Borghese.

They called it now Principato di Lucedio - "The princely estate of Lucedio" or Principality of Lucedio.

Rice production in the Upper Po Valley in Italy is extremely dependent on water.

Alpine glaciers are predicted to shrink, annual average rainfall to fall and temperatures to rise.

That could potentially disrupt the flow of the Po River and its tributaries and endanger the production of rice and other vital agricultural crops in the entire Upper Po Valley.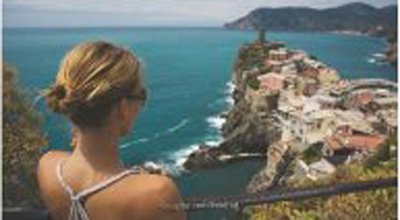 Useful Resources

100 Places in Italy Every Woman Should Go (Travelers' Tales)

It's an undeniable fact that travelling to Italy is a dream for many women.

While many travel guides offer dry lists of facts and can only guide travellers toward cookie-cutter tours, this female-centred guide allows women to create a personalized, fulfilling journey.

Written in lively anecdotes and organized by vacation type, the book at the right column offers a range of possibilities for any budget, interest, and level of travel experience.

A godsend for women looking finally to fulfil their Italian fantasies, vacation types include Hepburn's Roman Holiday and Venetian Carnevale, as well as additional information on great shopping, the best beaches, and culinary-themed jaunts.

With passion, humour, and helpful details, 100 Places in Italy Every Woman Should Go inspires travellers to discover masterpieces, sensual delights, and adventures in bell Italia.

Lidia's Italy: 140 Simple and Delicious Recipes from the Ten Places in Italy Lidia Loves Most

There is no one better to take fans on a culinary tour of Italy than Lidia Matticchio Bastianich is.

Her new cookbook, Lidia's Italy (a companion to her new public television series of the same name) covers "ten places in Italy Lidia loves most".

Those beautiful places include Istria, Trieste, Friuli, Padova and Treviso, Piemonte, Maremma, Rome, Naples, Sicily, and Puglia.

In addition, through 140 simple and delicious recipes, Lidia's Italy also offers a short introduction to each locale, featuring cultural treasures.

As defined by Lidia's daughter and co-author, Tanya, the information provided is invaluable so no body will miss taking a leap into Italy.

For the cook as well as the armchair traveller, Lidia's Italy is a rich and satisfying gastronomic journey through Italy.

Special Places to Stay

Here are hundreds of irresistible excuses for going to Italy as quickly as possible. Be welcomed and utterly seduced by the vitality and sheer authenticity of Italy and its people.

This collection of some 400 places at the right column provides ready-made friends and contacts, with beautiful and interesting houses to spend time in.

Stay in a B&B at the foot of Mount Etna, a medieval hamlet in Le Marche, an eco-pod in Puglia - there is even an entire village in Tuscany.

Find plenty to do and learn too; we have a farm that runs pottery and textile holidays in Puglia, and one in Tuscany where you can go truffle hunting or honey collecting, and there's an organic farm where you can help yourself to the vegetables.

Explore Rome and indulge in the romance of Venice, Naples and Florence. There is something to suit all budgets with rooms from €43, up to €5000 a night in plush hotels - and there are about 100 places with rooms for €100 or less.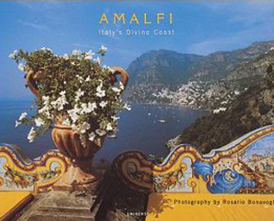 Amalfi Italy's Divine Coast

Stretching along the Mediterranean Sea from Sorrento to Positano, the Amalfi coast is one of the most famous and hard-to-reach seaside destinations in Italy.

Isolated from the mainland by the Lattari Mountain range, this unforgettable coast is accessible by land on one road along jagged cliffs that plunge 3,000 feet into the sea.

Such inaccessibility has made the secluded towns along the Amalfi coast truly unique centres of Italian culture.

With this colorful book, photographer Rosario Bonavoglia takes you on an adventurous ride, through the winding passages and ravines above the seacoast, to ten different towns--including Positano and Ravello as well as lesser-known Vietri and Cetara.

On this journey in the book, Bonavoglia unveils the hidden treasures accessible only to natives of the area.

His photographs capture breathtaking views of the seacoast, regional charm, and local architectural wonders, while renowned art historian Assunta Cuozzo recounts the history and the details that make these towns so remarkable.





Do you have more information to add to Upper Po Valley in Italy? If so, please use the following form to write it so we can learn more about Upper Po Valley.

You can write about the Upper Po Valley in Italy from a different angle to add more values other readers and I will thank you for, so much.

PLEASE BE ASSURED, no one of the commentators will capture your email address. It is only that the system that will send you notifications about replies to your comments, as this process is automated. Thanks to SBI 2.0 for making interaction with nice visitors like you possible with the strong website building and optimizing tools, in addition to Web 2.0 tools.

I have some gifts for you too for sharing your words about Upper Po Valley in Italy and the affects of global warming on that area. Thanks.
Have A Great Story About Some Beautiful Sites in the World?
Do you have a great story about any beautiful site in the world? Share it!
Search inside Upper Po Valley or any other beautiful place in Italy.


Well, could you see a glimpse of knowledge about such topic that you can build on a website like this? Just take any small area, not only this valley and seek my advice to use it to be successful. Use the Online Free Consulting Services here.

Did you like this page about Upper Po Valley in Italy? Well, share it with your services through the following buttons.


"Solo Build It" on the bar bellow empowers this page about Upper Po Valley in Italy. Thanks to "Solo Build It", as it makes building this website a snap.
---
100 Beautiful Sites in the World| 100 Beautiful Sites Blog| Beautiful Site Map| Beautiful Scene Newsletter| Amman| Bayan Olgii| Bay of Plenty| Beijing| Big Sur| Boreal Forest| Borneo| Cape Floral Region| Caracas| Chicago| Congo River Basin| Copenhagen| County Meath| Dalarna| Ganges Delta| Gondar| Indus River| Kalahari Desert| Kilimanjaro| Kordofan| Lake Chad| Lilongwe| Madagascar| Mergui Archipelago| Mississippi River| Monteverde Cloud Forest| Naukluft Park| Niger Delta| Norwegian Tundra| Okavango Delta| Olympia| Panama Canal| Paris| Perth| Rio de la Plata| Rotterdam| Rub al-Khali| Sagarmatha National Park| Saint Louis| Solomon Islands| Sulu Sulawesi Sea| Thames| Tian Shan| Timbuktu| Tokyo| Trinidad| Valdes Peninsula| Yangtze River| Zahara de la Sierra| User Interface