Dalarna is Home to the Oldest Tree in the World!
In addition to Dalarna's historical importance playing the important role in freeing Sweden from the Danish control in the years 1434 and 1521, and its economical importance as the richest area of metals and cooper, it is very beautiful landscape that mostly covered by spruce trees.

Dalarna grew to become a province and a county in Sweden. Its historical importance is also noted in many sources.

The following article is about this county, the forests of the spruce trees and the affects of global warming.

If you have more information about this county, any city in it or any other beautiful place in Sweden, please use the form at the bottom of the page to write it. Thanks.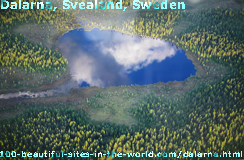 The county with its capital city Falun as well is very beautiful, with high technological and educational facilities, good climate and rich nature.

It shares with other beautiful provinces in Sweden the role of making Sweden the third best country for information technology (IT) in the world.

Landscape good for camping, forests for tours and hiking, beautiful national parks, attracted good for fishing lakes and the red wooden houses make this county one of the very beautiful areas in the world.

In addition to these important points, a team of scientists has made a good discovery to the oldest living tree in the world in the area, the spruce tree.

Recently researchers delighted the Swedish when they made a fascinating discovery in the mountain tundra of Dalarna in the south part of central Sweden to the oldest living tree in the world.

The roots of this old spruce tree are 9550 years old and dating back to the end of the last ice age, when the ice covered Sweden.

Today, Sweden's forests cover nearly 60% of the total modern Sweden's landmass, equivalent to 1% of global forest cover. Majestic pine trees dominate the forests of Sweden by 42%.

Besides, being used as Christmas trees, the spruces are also the base for paper and timber industries, one of the main industries in Sweden.

As a distinctive feature of Swedish forestry, individuals privately own half of the total spruce forests' area, which makes up to 355,000.

Many of those individuals operate small and family owned businesses and pass their plot from generation to generation.

The spruce is tolerant and it can both withstand severe cold and to a certain extent, drought.

It grows best in areas with cold winters. Its hardiness and long life are also due to its ability to clone itself. As soon as one trunk dies, another new tree grows from the same roots.

The 9,550-year-old spruce discovery is now shedding new light on the origins of the Swedish spruce.

However, it is uncertain that the tree could survive the climate change in the future. Rising temperatures and less summer precipitation will likely reduce the number of pines in southern Sweden.

Another constant threat to pine trees is spruce bark beetle. Frequent storms and hot summers have led to an explosion in the number of these beetles that can kill trees in large quantities.

With the future global warming, the number of beetles probably increases even more, and they will do great harm to the old Swedish spruce.




Useful Resources

Sweden's Regional Recipes

Take a tour through Sweden's Regional Recipes
, a delightful title that describes each of Sweden's diverse provinces and the culinary specialties.

The journey starts in Lappland, "the land of the midnight sun," Sweden's northermost and largest province.

It winds through the others as well, from the fertile valleys of Norrbotten in the northeast to Dalarna, "the heart of Sweden," to the southernmost province of Skane, where the residents eat a feast of goose on St. Marten's Day.

Enjoy arctic trout in Medelpad, blueberry tartlets in Dalarna, apple pancakes in Vastmanland, pea soup in Uppland, breaded potato bites in Dalsland, and Swedish meatballs, rye bread, and cheesecake in Smaland.

Try minced guinea fowl with roasted root vegetables in a chapter on foods from Nobel Awards banquets.

A chapter on Swedish holidays features everything from pineapple-strawberry torte at Midsummer to cookies and candy for Christmas to crayfish parties.

Your Swedish Roots

Today millions of Swedish-Americans are researching their family history.

Until now, a comprehensive, step by step genealogical handbook for Swedish research has not been available in the English language.

"Your Swedish Roots" fills that gap.

An American searching for his or her Swedish roots has many advantages, as well as some challenges. Since Sweden has not been at war for close to 200 years, Swedish sources and archives are very extensive and complete.

The records are in good order and are easy to find. In fact, the most commonly used church records are now even available on the Internet. Guidance for how to access and use these resources is found in this book.

Even with the abundance of records, family historians must first know some basic facts to be able to interpret these old documents.

Your Swedish Roots provides this background information and walks the researcher through the steps necessary to have success.

Another challenge is a combination of the language not many Americans speak Swedish and the antique script that so many creators of original documents used.

A special emphasis has given to translating and interpreting individual documents to help researchers who may have little or no background in the Swedish language or in reading script.

Spectacular research results in Swedish genealogy are possible only if you know where to find the records, and how to use them when you do.

Your Swedish Roots: A Step by Step Handbook
is the ultimate, step by step guide.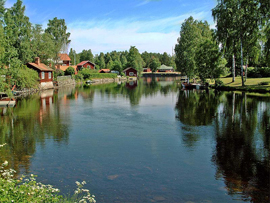 Beautiful View in Dalarna, Sweden!




You can comment on this page about Dalarna, Svealand, Sweden or write about any other beautiful sites located in Sweden.

To do this, please use the following form and contribute to this page. It is good idea to leave your email address so you can receive replies to your comments.

I have some gifts for you too for sharing your words about any beautiful location and the affects of global climate change on those locations. Thanks.
Have A Great Story About Some Beautiful Sites in the World?
Do you have a great story about any beautiful site in the world? Share it!
Search inside Dalarna or any other beautiful places in Sweden.


You can also enjoy more activities here if you liked this page about Dalarna in Sweden. Please share it with your services through the buttons here, at the left column of the page and at the bottom of the page.

This could be also additional value to you, as you could experience some social networking technologies and know more. Click on "Enjoy this page? Please pay it forward" at the bottom to know how to link to the website.


I use "Solo Build It" tools at the bar below to empower this page about Dalarna in Sweden and the entire 100 Beautiful Sites in the World. Thanks to those strong website building and optimizing tools.
---
100 Beautiful Sites in the World| 100 Beautiful Sites Blog| Beautiful Site Map| Beautiful Scene Newsletter| Contact Beautiful Sites| Any Beautiful City| Forward 100 Beautiful Cities| 350| Aarhus| Aegean Sea| Altai Mountains| Amazon Rainforest| Amman| Archipelago Sea| Bayan Olgii| Big Sur| Boreal Forest| Borneo| Congo River Basin| Copenhagen| County Meath| Dalarna| Franz Josef Glacier| Gondar| Ilulissat| Indus River| Kilimanjaro| Kordofan| Lake Chad| Mergui Archipelago| Monteverde Cloud Forest| Naukluft Park| Niger Delta| Norwegian Tundra| Okavango Delta| Olympia| Paris| Perth| Recife| Rio de la Plata| Rotterdam| Rub al-Khali| Tian Shan| Timbuktu| Tokyo| Tuvalu| Upper Po Valley| Valdes Peninsula| Yamal Peninsula| Yangtze River| User Interface