What Makes Big Sur Important?
Big Sur is a natural beauty in central California coast. It is also one of the beautiful sites in the world, where rare and endangered species live. The location becomes important to the tourism industry in recent decades.

Although there is great ecological diversity and significance in the area as a haven for many species of terrestrial and marine wildlife, it is sparsely populated.

The following lines are about this area in California. If you think there is something missing in those lines, please write it in the form below and contribute to this page. Thanks.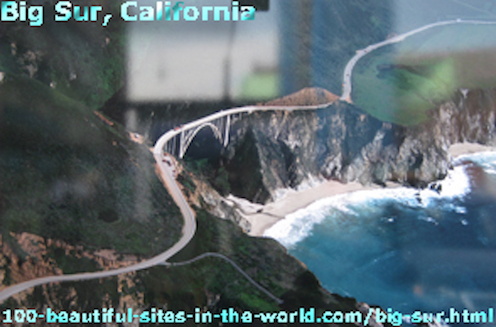 Big Sur stretches over 145 kilometres along the Californian coast midway between San Francisco and Los Angeles, and spreads 32 kilometres into the country. It is one of the most stunning and breathtaking landscapes you can experience at the American west coast.

The deep gorges cut through the rugged mountain terrain, heavily covered by pine forests that reach almost to the sandy beaches of the Pacific Ocean.

Big Sur is an extraordinary natural area with a biodiversity that includes many rare and endangered species. While the fog dwells on the slop of one canyon, arid climate yuccas grow on the other. Sea otters and cormorants live near dry climate creatures like canyon wrens and whiptail lizards.

The area had been an isolated and inaccessible wilderness until the California Highway 1 was built along the coastline in the late 1930s. After the Second World War, when electricity connection spread to the area, it began to attract a new generation of writers and artists.

The staggering beauty of the area and forbidding wilderness have inspired artists, writers, and poets, such as Henry Miller, Jack Kerouac, Hunter S Thompson, in addition to naturalists, hikers and real estate developers.

Ever since then, the Big Sur has a reputation as an artistic bohemian hotspot, where numerous novels, movies, songs and poems were about happenings on the area or about it.

Despite its popular status, it is still sparsely populated. This may indicate that it has never lost its unspoiled nature and mysterious settler-atmosphere. Today, less than 1,000 people live in these remote mountain forests. Many of them are privately owned or part of state parks.

In addition to spacious great beauty of this coastal area, it has a mild climate all year round, with dry and sunny summers and autumns and cool wet winters.

Over the past 20 years, most of California experienced an increase in temperature and a decrease in precipitation in the spring and summer periods.

This has led to a serious escalation in the number of large, dangerous forest fires, which have threatened major cities like Los Angeles. During a major wildfire in 2008, the fires destroyed about 16 houses in Big Sur and the flames swallowed more than 13,000 hectares of forests.

With a continued rise in temperatures and still prolonged summer heat waves, wildfires will become even more frequent and more intense, and pose a serious threat to the mountain forests of the Big Sur and many other forest areas in California.

Is there any wrong information in this article? Would like to write a review from different angle? Have more information about the area and want to share it? Please, use the following form and contribute to this page. Thanks.
Have A Great Story About Some Beautiful Sites in the World?
Do you have a great story about any beautiful site in the world? Share it!
Here are more things to do if you have enjoyed reading this page about the Big-Sur. Please share it with your services through the buttons here, at the left column of the page and at the bottom of the page. This could be also additional value to you, as you could experience some social networking technologies and know more.





I use "Solo Build It" tools at the bar below to empower this page about the Big Sur and the entire 100 Beautiful Sites in the World. Thanks to those strong website building and optimizing tools.
---
Home
|
100 Beautiful Sites Blog
|
Big Sur
|
Boreal Forest
|
Borneo
|
Copenhagen
|
County Meath
|
Franz Josef Glacier
|
Ilulissat
|
Lake Chad
|
Mergui Archipelago
|
Monteverde Cloud Forest
|
Naukluft Park
|
Niger Delta
|
Norwegian Tundra
|
Okavango Delta
|
Olympia
|
Paris
|
Rotterdam
|
Rub al-Khali
|
Rio de la Plata
|
Upper Po Valley
|
Yamal Peninsula
|
Beautiful Scene Newsletter
|