250 Coral Species Make Komodo Island a Beautiful Site!
Two hundreds and fifty species of coral make Komodo Island beautiful, colourful and keep the biodiversity in balance. They also make the waters colourful, enjoyable and most fascinating waters on Earth. Here, Komodo National Park has many tourism attractions.

Komodo is one of the beautiful islands in Indonesia. It spreads to 390 square kilometres and there are 2000 people living there. The island is one of the medium size islands in Indonesia, but it is one of the important and beautiful islands. There are more than 69 islands bigger than Komodo.

The following short article is about this island. However, if you know more information about it or any other island in Indonesia, please use the form at the bottom of the page to share it. This is also an invitation to Indonesians to write about their islands and upload pictures too. Many thanks.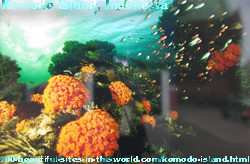 The biggest islands are the shared New Guinea and Borneo islands. However, Sumatra is the largest island in the country, which built up of more than 17,000 islands officially estimated by the government of Indonesia. Nevertheless, some sources say there are 17,508 islands that make the Republic of Indonesia.

The sea surrounding Komodo Island and the other neighbouring islands in this area in Indonesia provides some of the world's best diving spots. It colours the area by its spectacular unspoiled coral reefs and shoals of fish of all kinds, shapes and sizes together bursting with orgy of colour.

Komodo National Park stretches to cover 1,817 square kilometres in this area in Indonesia and includes Komodo Island, Rinca Island, Padar Island and other small islands.

It started in 1980 to protect the Komodo dragons that stroll around these rugged islands. Komodo dragon is the world's largest lizard and can be three metres long and weigh over seventy kilograms.

Since the park's creation, it has been determined that the park must protect the entire terrestrial and marine's biodiversity, and in 1986, the park was declared a UNESCO World Heritage Site.

The manifold underwater life of the sea around Komodo is a result of the strong currents and the warm tropical waters from Flores Sea, which mixes with cold currents from the Indian Ocean.

The stable, cold water temperatures between 24º and 28º C gives the 250 coral species that thrive in these waters, optimal conditions.

Corals form an indispensable part of the ecosystem and provide habitat for nearly thousand species of fish, whale sharks, manta rays, eagle rays, blue-ringed octopus, pygmy seahorses and sea turtles. This makes the waters around Komodo one of the most fascinating waters on Earth.

Climate change will almost bring this unique natural beauty out of balance. On the islands, rising sea levels threaten to flood and destroy mangrove forests and the beaches where sea turtles nest.

The ever-increasing acidification and rising surface temperatures in the sea may eventually kill the coral. The loss of the coral will have a negative impact on all marine life, in addition to affecting coastal protection of the islands. All this could result in an immense loss of beauty and natural diversity in Komodo Island.

You can either comment on this article about Komodo Island and Komodo National Park in Indonesia or write your own. To do so, please use the following form and contribute to this page. It is good idea to leave your email address so you can receive replies to your comments.

PLEASE BE ASSURED, no one of the commentators will capture your email address. It is only that the system that will send you notifications about replies to your comments, as this process is automated. Thanks to SBI 2.0 for making interaction with nice visitors like you possible with the strong website building and optimizing tools, in addition to Web 2,0 tools.

I have some gifts for you too for sharing your words about Komodo Island and Komodo National Park in Indonesia and the affects of global warming on that area. Thanks.
Have A Great Story About Some Beautiful Sites in the World?
Do you have a great story about any beautiful site in the world? Share it!
You can also enjoy more activities here indeed if you liked this page about Komodo Island and Komodo National Park in Indonesia.

Please share it with your services through the buttons here, at the left column of the page and at the bottom of the page.

This could be also additional value to you, as you could experience some social networking technologies and know more. Click on "Enjoy this page? Please pay it forward" at the bottom to know how to link to the website.


I use "Solo Build It" tools at the bar below to empower this page about Komodo Island and Komodo National Park in Indonesia and the entire 100 Beautiful Sites in the World. Thanks to those strong website building and optimizing tools.
---
Home| 100 Beautiful Sites Blog| Beautiful Site Map| Beautiful Scene Newsletter| 350| Altai Mountains| Amman| Archipelago Sea| Arctic Ocean| Bayan Olgii| Bay of Plenty| Beijing| Big Sur| Boreal Forest| Borneo| Cape Floral Region| Caracas| Caribbean Sea Turtles| Chacaltaya| Chigao| Congo River Basin| Copenhagen| County Meath| Dalarna| Franz Josef Glacier| Ganges Delta| Gondar| Ilulissat| Indus River| Kakadu| Kalahari Desert| Kauai| Kilimanjaro| Komodo Island| Kordofan| Lake Chad| Lilongwe| Madagascar| Mergui Archipelago| Mississippi River| Monteverde Cloud Forest| Naukluft Park| Niger Delta| Norwegian Tundra| Okavango Delta| Olympia| Panama Canal| Paris| Perth| Quelccaya Ice Cap| Recife| Rio de la Plata| Ross Ice Shelf| Rotterdam| Rub al-Khali| Sagarmatha National Park| Saint Louis| Solomon Islands| Sulu Sulawesi Sea| Thames| Tian Shan| Timbuktu| Tokyo| Trinidad| Tuvalu| Upper Po Valley| Valdes Peninsula| Vavau| Yamal Peninsula| Yangtze River| Zahara de la Sierra|