Kakadu is a Beautiful National Park in Australia!
Kakadu in the Northern Territory of Australia has been inhabited more than 50,000 years by different clans from Australia's indigenous people, such as the Aboriginal tribes.

The entire area behind the small gulf faces the sea on the way both to Papua New Guinea at the northeast and Indonesia where Borneo and Komodo Island lie a little at the northwest.

The wetlands color the life in Kakadu National Park; attract thousands of honey birds and tourists to beautiful lands colored as a carpet by lily and help the Aboriginal tribes profit from tourism.

The following lines are about this area and its indigenous inhabitants the Aboriginal people. If you have more information about this area, please use the form at the bottom to write it.

I have some invaluable gifts for you just for your contribution to this page. Thanks.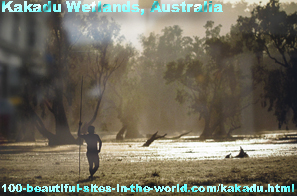 Today, Kakadu National Park covers 4,894,000 acres and it is known for its unique interaction between culture and nature. The visible signs of this interaction appear in the 10,000-year-old paintings and petroglyphs on stones, and a unique wildlife, made possible by the diverse of the tropical climate.

The area is rich by fauna and flora. In addition to numerous domestic birds and animals, there are some 68 mammals, 26 kinds of frogs, 120 reptile species, more than 10,000 insect species and more than 2000 different kinds of plants covering the area.

The lush green wetlands of Kakadu are home to more than 60 water bird species. In late summer, the northern hemisphere wetlands also attract around 30 migratory bird species.

Those migratory birds leave their breeding grounds in Siberia and China and fly south all the way to warmer surroundings in Australia. Wetlands along the floodplain are covered by forests of eucalyptus, that sustain nectar eating or by other word honeyeaters birds such as Lories.

Paper bark trees are of great significance for Aboriginal tribes. They use the trees to make canoes by folding a large piece of bark for a canoe.

Around 500 Aboriginal people are living in Kakadu National Park today. They are dependent on many tourists who come each year to visit the beautiful lily-carpeted waterways. The Aboriginal tribes continue to live in the same manner as they have always lived taking care of the area.

Climate change poses serious threat to Kakadu National Park. Both of the Aboriginal people and the rich natural environment in the area are critically endangered.

With the expected rising in sea levels, saltwater will likely penetrate into the rich green area, erode the paper-bark forests and transform a large part of the lush wetlands to salty mud surfaces.

If it happens as predicted, the beautiful area will change and this will keep both tourists and the many distinctive birds away and generally have a devastating effect on widelife in Kakadu's wetlands.

In addition to this beautiful area in Australia, there are other beautiful places already in this website. See other beautiful places in Australia here at Great Barrier Reef and Perth.

I will add some more beautiful attractions in Australia to this category, so come and visit this website always. You can put it into your favourites by pressing Ctrl and D on your keyboard at the same time.

I encourage you to either comment on this article about Kakadu National Park, Kakadu Wetlands and Aboriginal people in Australia or write your own.

To do so, please use the following form and contribute to this page. It is good idea to leave your email address so you can receive replies to your comments.

PLEASE BE ASSURED, no one of the commentators will capture your email address. It is only that the system that will send you notifications about replies to your comments, as this process is automated. Thanks to SBI 2.0 for making interaction with nice visitors like you possible with the strong website building and optimizing tools, in addition to Web 2,0 tools.

I have some gifts for you too for sharing your words about Kakadu National Park, Kakadu Wetlands and Aboriginal people in Australia and the affects of global warming on that area. Thanks.
Have A Great Story About Some Beautiful Sites in the World?
Do you have a great story about any beautiful site in the world? Share it!
Search inside Kakadu or inside any beautiful place in Australia.


You can also enjoy more activities here indeed if you liked this page about Kakadu Wetlands in Australia.

Please share it with your services through the buttons here, at the left column of the page and at the bottom of the page.

This could be also additional value to you, as you could experience some social networking technologies and know more. Click on "Enjoy this page? Please pay it forward" at the bottom to know how to link to the website.


I use "Solo Build It" tools at the bar below to empower this page about Kakadu Wetlands in Australia and the entire 100 Beautiful Sites in the World. Thanks to those strong website building and optimizing tools.
---
Home| 100 Beautiful Sites Blog| Beautiful Site Map| Beautiful Scene Newsletter| 350| Altai Mountains| Amman| Archipelago Sea| Arctic Ocean| Bayan Olgii| Bay of Plenty| Beijing| Big Sur| Boreal Forest| Borneo| Cape Floral Region| Caracas| Caribbean Sea Turtles| Chacaltaya| Chigao| Congo River Basin| Copenhagen| County Meath| Dalarna| Franz Josef Glacier| Ganges Delta| Gondar| Ilulissat| Indus River|Kakadu| Kalahari Desert| Kauai| Kilimanjaro| Komodo Island| Kordofan| Lake Chad| Lilongwe| Madagascar| Mergui Archipelago| Mississippi River| Monteverde Cloud Forest| Naukluft Park| Niger Delta| Norwegian Tundra| Okavango Delta| Olympia| Panama Canal| Paris| Perth| Quelccaya Ice Cap| Recife| Rio de la Plata| Ross Ice Shelf| Rotterdam| Rub al-Khali| Sagarmatha National Park| Saint Louis| Solomon Islands| Sulu Sulawesi Sea| Thames| Tian Shan| Timbuktu| Tokyo| Trinidad| Tuvalu| Upper Po Valley| Valdes Peninsula| Vavau| Yamal Peninsula| Yangtze River| Zahara de la Sierra|