Okavango Rivers!
by Admin
The Okavango River is not the only river in the Okavango Delta. There are some other rivers and affluents from this river named by Botswana's native names. It is the fourth longest river in Africa, after the Nile, the Congo River Basin and the Niger River at the Niger Delta.

The Okavango River begins from Angola, where it is called the Cubango River. It runs southeast to form some places at the border between Angola and Namibia and then it forms the delta before it ends in Kalahari Desert.

It continues to Botswana from that point to drain into Moremi Game Reserve and empty its water into swamp in Kalahari, where it creates the Okavango Delta, or Okavango Alluvial Fan, as it is also called. An effluent from the Okavango River called the Taughe River flows into Lake Ngami.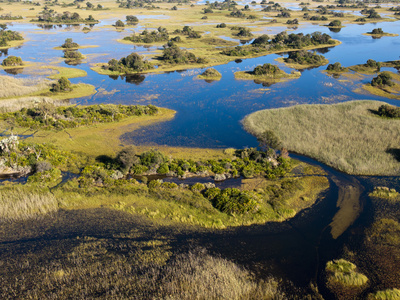 Aerial View of Okavango Delta, Botswana, Africa
Sergio Pitamitz
When the rain falls, an outflow of the river ends on the Boteti River or Botletle River. This river empties seasonally in Makgadikgadi Pans. The pans occupy an area of ancient lake, where salt pans in the dry season glisten by the glow of the sun.
This is a wide wetland where thousands of Flamingos congregate in summer and the area becomes a good destination for wildlife lovers and bird seeing tourists. The river also provides Lake Ngami by water. The lake, as other parts of the Okavango Delta attracts many tourist by its nature and wildlife.
The Boteti River or Botletle River gets water from the Okavango Delta through the Thamalankane River at the
beautiful Village of Maun
,, which is the first tourism hub with its route to Moremi Game Reserve and then flows out of the Thamalakane River at Toteng Village and runs to the north through Tlkaseoulo over Ghautsa Falls.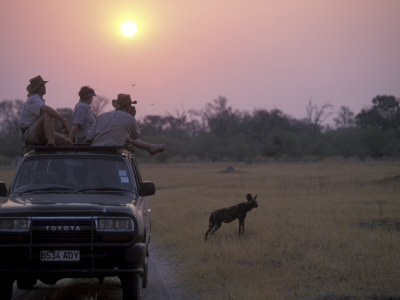 Tourists on Safari Watch, Khwai River, Moremi Game Reserve, Botswana
Paul Souders
It turns to the east from this point to pass the villages of Makalamabed, Muekekle and Matima. From the last village, it runs to the south through Kwaraga through the villages of Phukumakaku, Khumaga Sukwane, Rakops and Xhuma.
From Xhuna, it flows through Lake Xau and turns east to run through Mopipi into Ntwetwe Pan. In the dry season, the river becomes an area of congregation to many bird and animal species offering good views of the nature to the bird seeing lovers.
The Chobe River runs from the highlights of northern Angola to enter Botswana. It runs through Kasane near the Chobe National Park, which is the second largest park in the area and where numerous elephants and some other animal species live and graze on a plenty of grass. In addition, the nature of the area is fine. The river is known by many names from its origin, such as Kwando in Angola and Linyanti and Chobe in Botswana.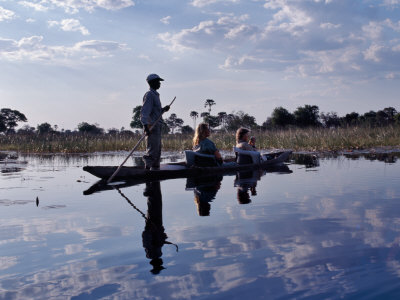 Boatman in His Mokoro Dug-Out Canoe Takes Tourists Along One of Myriad Waterways of Okavango Delta
Nigel Pavitt
In addition to
Okavango Rivers
, you may also be interested in other rivers, deltas, valleys and archipelagos in the world at the following links:
Amazon Rainforest
|
Ganges Delta
|
Indus River
|
Mergui Archipelago
|
Mississippi River
|
Upper Po Valley
|
Yangtze River
|
You may also be interested in African relevant topics at the following links:
Beautiful Maun Village
|
Beautiful Sites in Botswana
|
Gondar
|
Kalahari Desert
|
Kilimanjaro
|
Kordofan
|
Lake Chad
|
Lilongwe
|
Madagascar
|
Massai-Mara Natural Reserve
|
Naukluft Park
|
Niger Delta
|
Saint Louis
|
Serengeti
|
The Massai
|
The Story of My Life Ended in Gondar
|
Trinidad
|
White Massai
|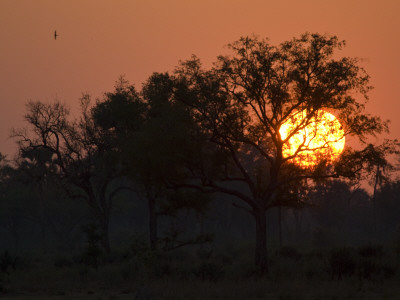 Sunset in the Okavango Delta Area of Botswana
Jodi Cobb