Enjoy Beautiful Sites in Botswana!
There are more than 200 beautiful sites in Botswana in Okavango Delta and somewhere else in this beautiful land.
You can take inland safaris to places in the beautiful delta in Botswana, as you can book tours from the beautiful Maun village in the delta to other beautiful places in Botswana, such as Kalahari Desert Game Reserve, Tsodilo Hills, Chobe National Park, Kasane and the capital city of Gaborone in the southeast.
See Botswana's traveling agencies and the transport stations at the second link.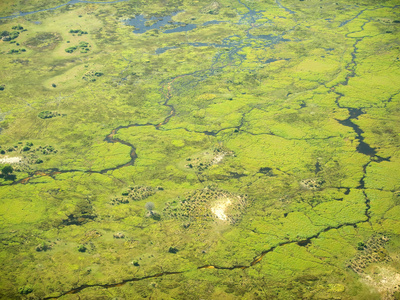 Aerial Photography of the Okavango Delta, River Channel
Louise Murray
Mokoro Trips to Beautiful Sites in Botswana Delta
There are two ways to enjoy the mokoro trips through the beautiful sites in Botswana. This is the easy way and the best way to explore the delta, while slipping on the Okavango Rivers and shallow waters.
It is a money saving way too. At the Crocodile Center you will get advices on how to protect yourself while you are in the mokoro.
The mokoro is a very small boat like canoe traditionally made of ebony and sausage trees and it takes two persons with few luggage. But, the new generation of mekoro are made of fiberglass as supposed to last longer in addition to keep preserve the cover of the ebony and sausage trees.
Local people use it for fishing on the waters of the delta and some of them use it further to get some money too by taking people through the delta.
They know the hard living conditions, so they make their best to survive. As a traveller you could help them by taking your tours on their mekoro and sharing your food with them.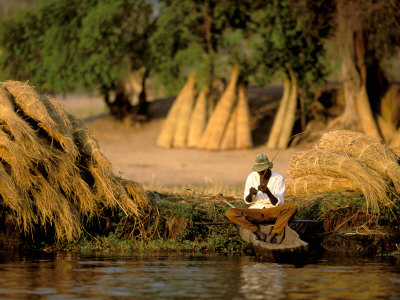 Local Man Fishing and Piles of Straw for Hatch, Okavango Delta, Botswana
Pete Oxford
Safaris in beautiful places in Botswana delta
Most of the package traveling operators provide mokoro trips included in their packages.
But, you could get your own mokoro trips by hiring a private poler and self-catering to save money while you are touring on the shallow waters for one or two days equipped with your food beverages, camping equipment including water-improved shows and first-aid.
Another way to save money is to book group traveling packages.
Here are some more travel and tour agencies in the delta that offers everything you need to tour the beautiful sites in Botswana and other beautiful places in this country: (See the locations on these agencies and travel bureaus at the second link above). 
African Animals Adventures - African Excursions - Afro-Trek - Audi Camp Safaris - Back to the abridge Backpackers - Crocodile Camp Safaris - Delta Air - Ker and Downey - Mack Air - Moremi Air Services - Northern Air - Okavango River Lodge - Okavango Tours and Safaris - Sefofane - Swamp Air Charter - Travel Wild - Safari Destinations - Wild Attractions - Wilderness Safaris - Wild Land Safaris - Wildlife Helicopters.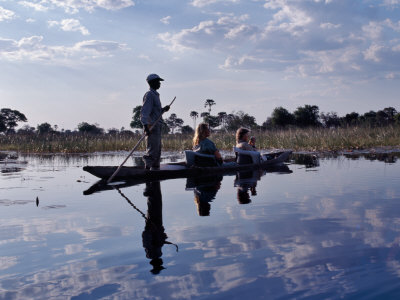 Boatman in His Mokoro Dug-Out Canoe Takes Tourists Along One of Myriad Waterways of Okavango Delta
Nigel Pavitt
If you decided to take some delta flights, you will find some of the mentioned bureaus in the airport area. Since all of the charter companies are on one place, you can compare the prices per hour, see how many people are taking off, which makes the prices fall down and decide which plane you want to take.
While are planning to travel from home, the group package tour is the best solution to enjoy your trips in the beautiful sites in Botswana. There are opportunities to save on your travel through some TV ads you see through your TV channels at home. Alternatively, use the search tool at the third right column to explore some travel agencies.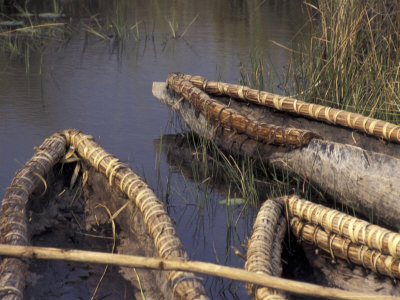 Traditional Wood and Straw Mokoro Dugout Canoes, Botswana
Stuart Westmoreland
Campsites, hotels and lodges in beautiful sites in Botswana
There are many budget and luxury campsites, hotels and lodges in those beautiful sites in Botswana you may consider, if your travelled your own way to the delta and decided to do the same taking tours inside it.
The campsites, hotels and lodges are in Matlapaneng and Sedie. In Matlapaneng the lodges and campsites are about 9 kilometers from the center of the beautiful Maun village, along Thamalakane River and in secluded and quite places.
Transportation is available between Maun and the places of lodges and campsites.
The cheapest, or the budget campsites, hotels and lodges are Audi Camp, Back to the Bridge Backpackers, Crocodile Camp, Discovery Bed and Breakfast, Island Safari Lodge, Marina's Camp, Maun Rest Camp and Okavango River Lodge.
The high priced, or the midrange and top end camp sites, hotels and lodges in those beautiful sites in Botswana are Alfa Lodge, Maduo Guest House, Maun Lodge, Motsentsela Tree Lodge, Riley's Hotel, Sedia Hotel and Thamalakane Lodge.
For locations of campsites, hotels and lodges in beautiful sites in Botswana delta, see the second link at the top.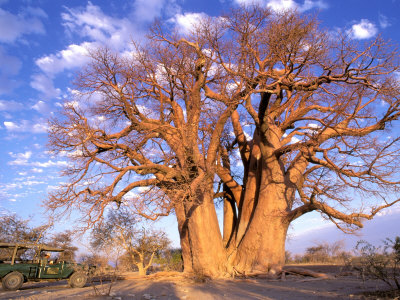 Baobab, Okavango Delta, Botswana
Pete Oxford
Where to eat in beautiful sites in Botswana delta?
The restaurants are in beautiful sites in Botswana delta and other places near it along with fast food in supermarkets in the beautiful Maun village Shopping Center, the Mokoro Shopping, Ngami Shopping Centers, and Shop-Rite on Tsheke Tsheko Road.
Here are some restaurants:
Bon Arrivee is on Mathiba 1 Street, near the airport. Buck and Hunter is also on Mathiba 1 Street, near the airport. Hilary's restaurant and coffee shop is at a short distance back of Mathiba 1 Street at the west of Bon Arrivee. Rendezvous is near Sir Seretse Road at the south of the Taxi Stand.
Shopping in beautiful sites in Botswana delta
There are many small shops and big supermarkets in and near the Mall in Maun. Other shopping centers are near the airport and in other villages in the delta. Botswana Book Center is at the western part of the Mall.
A supermarket is near it at the north. Shop-Rite Supermarket is at the northeast of this direction across Tsheke Tsheko Road. The General Trading Company is near Shop-Rite on Tsheke Tsheko Road. There are some other supermarkets that sell fresh meat, fruits and vegetables an other goods such as Spar Supermarket and Score Supermarket. 
For African arts, you have some shops and galleries that sell arts around in the Mall and some other places. They are interesting for many tourists to take some African arts home.
The African Arts and Images and the Bushman Craft Shop are on Mathiba 1 Street. The Craft Center is in the complex of the Power Station on Mophane Street.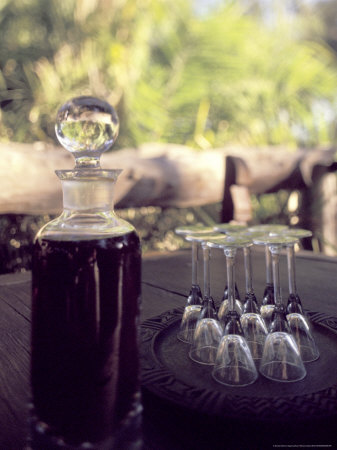 Sherry Bottle and Glasses at Jao Camp, Botswana
Stuart Westmoreland
I hope that you have enjoyed your visit to beautiful sites in Botswana delta. Now, you can get a reward for five minutes you spend on the following form.
I really mean it and you'll be thankful for life for your contribution. Write more information about any of the campsites, hotels, lodges, restaurants and snack bars in Botswana and upload pictures from them through this form. Then take your rewards when you did just that from the second page.
In addition to beautiful sites in Botswana, you may also be interested in the following African sites and other African topics:
Cape Floral Region| Congo River Basin| Gondar| Kalahari Desert| Kilimanjaro| Kordofan| Lake Chad| Lilongwe| Madagascar| Massai-Mara Natural Reserve| Naukluft Park| Niger Delta| Okavango Delta| Okavango Rivers| Saint Louis| Serengeti| The Massai| The Story of My Life Ended in Gondar| Timbuktu| White Massai|
If you found beautiful sites in Botswana useful, please tweet, like, share, follow, or pin the pictures you see on this page. Thanks.
If you live in the area, or if you were from it but living abroad, please use the following form to write about it and upload pictures from it. Thanks.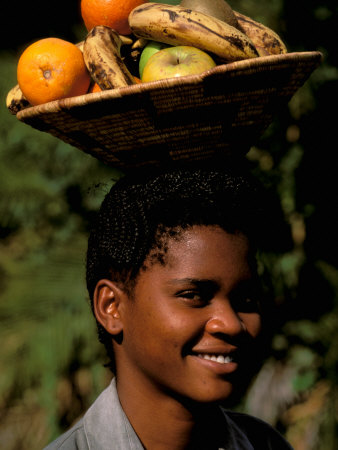 Botswanan Woman, Okavango Delta, Botswana
Pete Oxford
Have A Great Story About Some Beautiful Sites in the World?
Do you have a great story about any beautiful site in the world? Share it!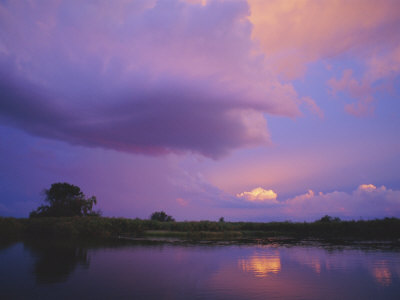 Okavango Delta, Botswana, Africa
Paul Allen
Comments, or more information about beautiful sites in Botswana appear at the second section of the page below the comments form.
---
100 Beautiful Sites in the World
|
100 Beautiful Sites Blog
|
100 Beautiful Sights
|
About Us
|
Beautiful Site Map
|
Beautiful Scene Newsletter
|
Contact Beautiful Sites
|
Any Beautiful City
|
Forward 100 Beautiful Cities
|
User Interface
|
Aegean Greek Islands
|
Aegean Sea
|
Amazon Rainforest
|
Amman
|
Anguilla Island
|
Archipelago Sea
|
Arctic Ocean
|
Bayan Olgii
|
Beautiful Maun Village
|
Beautiful Santiago City
|
Beautiful Sites in Botswana
|
Beautiful Tonga Islands
|
Bering Sea
|
Big Sur
|
Boreal Forest
|
Borneo
|
Caracas
|
Caribbean Sea Turtles
|
Chacaltaya
|
Copenhagen Climate Change
|
350
|
Cape Floral Region
|
Congo River Basin
|
Copenhagen
|
County Meath
|
Dalarna
|
Franz Josef Glacier
|
Ganges Delta
|
Gondar
|
Gujarat
|
Ilulissat
|
Indus River
|
Kalahari Desert
|
Kauai
|
Kilimanjaro
|
Kordofan
|
Lake Chad
|
Lilongwe
|
Madagascar
|
Mergui Archipelago
|
Mississippi River
|
Monteverde Cloud Forest
|
Naukluft Park
|
Niger Delta
|
Norwegian Tundra
|
Nuwara Eliya
|
Okavango Delta
|
Okavango Rivers
|
Olympia
|
Panama Canal
|
Paris
|
Perth
|
Quelccaya Ice Cap
|
Recife
|
Rio de la Plata
|
Ross Ice Shelf
|
Rotterdam
|
Rub al-Khali
|
Sagarmatha National Park
|
Saint Louis
|
Serengeti
|
Solomon Islands
|
Sulu Sulawesi Sea
|
Thames
|
Tian Shan
|
Timbuktu
|
Tokyo
|
Travel Photography
|
Trinidad
|
Tuvalu
|
Upper Po Valley
|
Valdes Peninsula
|
Vavau
|
Yamal Peninsula
|
Yangtze River
|
Zahara de la Sierra
|
Massai-Mara Natural Reserve
|
The Massai
|
The Story of My Life Ended in Gondar
|
White Massai
|