Skiathos Beautiful Beaches!
There are numerous Skiathos beautiful beaches in the beautiful Skiathos Island and the beautiful islets nearby, where you can enjoy swimming, diving, snorkeling and live the pleasure in the beautiful nature around the beautiful beaches of Skiathos.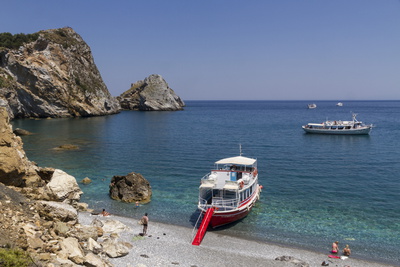 Skiathos Beautiful Beaches: Kastro Beach, Skiathos, Sporades, Greek Islands, Greece, Europe.
Rolf Richardson
Around Skiathos alone, there are more than 21 beautiful beaches and other unknown beaches. Some of the beautiful beaches of Skiathos are secluded and therefore used as nudity beaches. No one hides here behind the pine trees in the surrounding areas.
The nearest beach to the beautiful Skiathos Town is about 2 kilometers from the capital city of the island on Siferi Bay, followed by Achladies Bay Beach, Nostos Beach, Tzaneria Beach and Cape Kalamaki.
From this area to the west on the southern coast are Vromolimna Beach, Kolios Beach at Kolios, Paraskevi Beach with Atrium Hotel above it, Cape Tsimokokalio, Troulos Beach at Troulos, Maratha Beach, Koukounaries Beach with Koukounaries Camping, Koukounaries Bay, Cape Tourkovigia, Banana Beach, Agia Eleni Beach and Agia Eleni Cape.
On the western coast are many Skiathos beautiful beaches. Follow up from Agai Eleni Beach and cape to Mandraki Beach, Cape Gournes, Elias Beach, Gournes Beach, Agistros Beach, Megales Aselinos Beach, Mikros Aselinos Beach, Kehria Beach, Kehrias Bay, Cape Agios Sozon and Cape Kastro to the top north of the island overlooking the islet of Kastronisia.
From this point to the east and then touring by a boat down to the town of Skiathos, you will find Lalaria Beach at the top of the island. Descending from there the three points of Skotini Spilia, Galazia Spilia, Halkini Spilia and Cape Kefala with the airport south of it.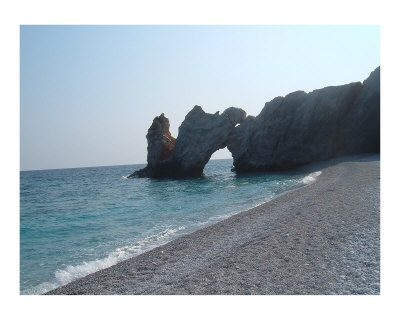 Skiathos Beautiful Beaches: Amazing White beach in Skiathos Greek Island.
Andrew P Simpson
Descending from there on the eastern coast is a strip of land that curves Skiathos Bay. At the middle of the strip of land and between Cape Kefala and Cape Pounta, at a short distance is the islet of Aspronisos. At the south of Cape Pounta are the islets of Maragos, Argos, Tsougriaki and Tsougria.
Skiathos Bay is just between Cape Pounta and Cape Plakos. Bourtzi Islet is at the end of the bay and before Cape Plakos. Taverna Agnantio is on this area. At the south of Cape Plakos is Siferi Bay, where Megali Amos Beach lies.
It is followed respectively by Achladies Bay Beach with Achladies Apartment at the north of it, Nostos Beach, Tzaneria Beach and Cape Kalamaki. From this area to the west on the southern coast are Vromolimnos Beach and the beaches mentioned above at the third paragraph.
The local bus goes to Skiathos beautiful beaches of Megali Amos, Vromolimnos (which is considered the best of Skiathos beautiful beaches, with 1,2 kilometers of sandy land), Kolios, Troulos and Koukounaries. Most of these beaches have pine trees and they are crowded. The Banana Beach lies in a curve with white soft sand and it is a nudity beach.
Windsurfing in Agia Eleni Beach is a pleasure. Mandraki Beach is on a 1.5 kilometers sand with a pine walk path. You can reach it by bus from Trolous. Mikros Aselinos Beach is less than half a kilometer from Moni Panagias Kounistras. About 5 kilometers from here is Kehria Beach.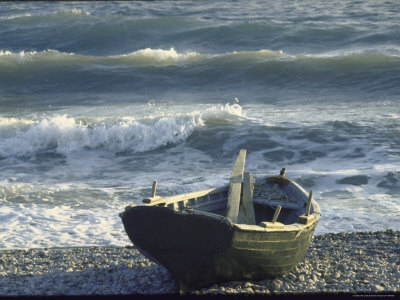 Skiathos Beautiful Beaches: Abandoned rowboat on a Stony Beach against backdrop of island of Skiathos in the Northern Sporades.
Dmitri Kessel
Many of Skiathos beautiful beaches are accessible by excursion boats. Among them is Lalaria pepple Beach at the top northeast of the island. Near it lies Kastro on a rocky land. It was a fortified capital of the island during 1540-1829 where you can see a remaining cannon and the restored four churches.
In addition to
Skiathos beautiful beaches
, you may also be interested in the following beautiful beaches and other islands in Greece:
100 Beautiful Cyclades
Islands|
100 Beautiful Dodecanese
Islands|
100 Beautiful Ionian
Islands|
Aegean Greek Islands
|
Aegean Sea
|
Beaches in Chios
|
Beautiful Alonissos Island
|
Beautiful Amorgos Island
|
Beautiful Andros Beaches
|
Beautiful Beaches in Lesvos
|
Beautiful Beaches in Samos
|
Beautiful Beaches in Zakynthos
|
Beautiful Cephalonia Beaches
|
Beautiful Greek Islands
|
Beautiful Kefalonia Beaches
|
Beautiful Lefkas Beaches
|
Beautiful Lixourian Beaches
|
Beautiful Paros Beaches
|
Beautiful Rhodes Beaches
|
Beautiful Santorini Beaches
|
Beautiful Zante Beaches
|
Lesvos Springs
|
Protected Beaches of Zakynthos
|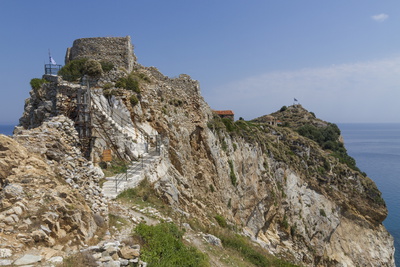 Kastro, Beautiful Skiathos Beaches, Greek Islands
Rolf Richardson