The Beautiful Amazon Rainforest is Burning!
Like Amazon Rainforest? Email it to Friends
CLICK HERE



Dugout Canoe on the Amazo...
Jason Edwards
Rainforest Orchid, Amazon...
Pete Oxford
Paulinia Species, Rainforest, Costa Rica
Michael Fogden
Understorey Vegetation, Tambopata, Am...
Paul Franklin
Fig Tree in Tropical Rainforest, Mexico
Patricio Robles Gil
Southern Amazon Red Squirrel, Investi...
Nick Gordon
Tambopata River, Peruvian Amazon
Mark Jones
King Vulture & Black Vultures, Tambop...
Mark Jones
Lesser Yellow Headed Vulture, Feeding...
Mark Jones
Black Vulture, Scavenging on Fish, Ta...
Mark Jones
Yellow-Fronted Amazon, Amazona Ochroc...
Brian Kenney
Rainforest Katydidlirometopum Coronat...
Brian Kenney
Turtles, Amazon River, Peru
Jeff Randall
Rainforest Naturalist Teaching Touris...
Roy Toft
Jaguar Skull on Ground in Rainforest ...
Roy Toft
Aerial View of Coastal Rainforest, Co...
Roy Toft
Building on Stilts Reflected in the R...
Sybil Sassoon
Jaguar, Amazon, Ecuador
Pete Oxford
Leaf Frogs, Amazon, Ecuador
Pete Oxford
Tikal Pyramid Ruins and Rainforest, D...
Michele Falzone
Amazon River, Amazon Jungle, Aerial V...
Steve Vidler
Manaus, Amazonas, Brazil
The Amazon rainforest, known as Amazonia or the "Earth's lungs" are the planet's largest rainforest.
It compromises the greatest natural resources in the world. It covers 5.5 million square kilometres and constitutes more than half of the rainforest left in the world.
The Amazonia spreads out over nine different Latin American nations with 60% of it located in Brazil.
The following article is about the Amazon Rainforest and it comes to encourage you support any action to save your community from global climate dangers.
It encourages you to share your thoughts too about this very important issue in our world today and to take actions.
Please use the form below to write about it, upload beautiful pictures from the forests and support the website. Thanks.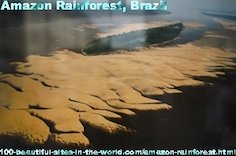 All the rain forests in the world represent the world's richest repository of terrestrial biodiversity, and play a major role in regulating the global climate.

They support the livelihoods of a substantial proportion of the world's population and are the source of many internationally traded commodities.

The stability of rainforest margins has an ecological and socio-economic dimension and it has been identified as a critical factor in the preservation of tropical forests.

The Amazon rainforest is home to 20% of the world's animal and plant species, the biodiversity of the rainforest is unparalleled anywhere on Earth.

It includes some 2.5 million species of insect, and tens of thousands of species of tree and plant.

Amazonian biosphere has immense influence on the climate and living conditions in the whole planet.

Tropical rainforests are disappearing due to agricultural intensification and climate change, causing irreversible losses in biodiversity and associated ecosystem functioning.

Over the past 30 years, almost 600,000 square kilometres of the rainforest were felled only in Brazil. This is about 20% of the Amazon rainforest.

In addition to this, the environmental change influences the ecosystem properties and human well-being.

People do not often consider this fact during land use intensification. Should this trend continue, more than 30% of the forest will disappear in 2050, contributing to global warming through emissions of CO2, on a very large scale.

Even without deforestation, the rainforests are under serious threat. Many tropical plants species are extremely sensitive to even the slightest climate variation.

A temperature rise of 3º C would result in a decrease in forest area in parts of the Amazon more than 40% which will increase global warming even more, eliminate thousands of endemic species found nowhere else in the world, and transform the landscape into savannah.

According to some statistics, the entire tropical rainforests disappear at an alarming rate causing unprecedented losses in biodiversity and ecosystem services.

If anything, given recent developments in issues such as climate change and poverty, the problem of protecting and sustaining forests should logically have become more important globally.

Yet public interest in, and development support for, forest activities have declined and rates of forest loss remain stubbornly high.

With climate change now charging up the political agenda, there are three issues commonly making the headlines. These issues are carbon budgets, renewable energy, and the anticipated impacts of climate change.

Equally important, though currently less well covered, is the issue how these effects might be mitigated.

On 31 May 2009, Greenpeace called multinational companies to stop buying Brazilian cattle products connected to deforestation.

A report warned climate change could decrease up to 85% of the Amazon rainforest by 2150.

However, the Brazilian authorities have unveiled a plan to slow deforestation in the Amazon rainforest by over 70% by 2018.

Useful Resources

The Amazon, 3rd: The Bradt Travel Guide


The world's greatest river flows from its source high in the Peruvian Andes through mountains, cloudforest and lush rainforest to its final destination on Brazil's eastern shores.

Long associated with exploration and adventure, the Amazon is also rightly treasured for its biodiversity.

Whether you are taking a leisurely riverboat trip or organizing your own expedition, wish to learn about the area's flora and fauna or the people living along the river's route, this book is invaluable.

This guide includes: all countries of the Amazon Basin and Orinoco; detailed natural history and expanded sections on national parks; revised information on tours, hotels, lodges, restaurants and attractions; towns with the best access to the river; new appendix of internet resources.

Crude Reflections / Cruda Realidad: Oil, Ruin and Resistance in the Amazon-Rainforest (English and Spanish Edition)


Crude Reflections chronicles the human and environmental impact of oil drilling in the Ecuadorian Amazon, where the pollution is so extensive that medical experts currently predict thousands of deaths from cancer and the disappearance of five indigenous rainforest communities.

Photographers Lou Dematteis and Kayana Szymczak have documented the physical and emotional reality of those affected by this toxic contamination, roughly thirty times greater than the more widely reported Exxon Valdez oil spill.

Their powerful images are accompanied by moving first-person testimonies from the victims, and the uplifting story of efforts by local communities to seek justice and to prevent further drilling.

The Brazilian Amazon Rainforest


This provocative book documents how national and global politics intersected to bring about changes in Brazil's environmental preservation laws.

Luiz Barbosa argues that global forces coupled with two decades of military rule in Brazil led to policies that promoted deforestation for the sake of development, ultimately having devastating consequences for Amaznia's ecosystem and its native populations.

By the mid-1980s, changes in global ecopolitics and the onset of democracy in Brazil paved the way for new environmental preservation laws. Barbosa's study is unique in showing the impact of global processes on third-world environmental degradation and in its claim that democracy can facilitate preservation.

The latter point is further emphasized in a comparative chapter in which Barbosa demonstrates the importance of democracy for environmental preservation in Costa Rica, Malaysia, and Indonesia.

Sociologists and anthropologists interested in issues surrounding economic development as well as environmental activists will find much to their liking in this work.

Lessons from Amazonia: The Ecology and Conservation of a Fragmented Forest


This book presents the results of the longest-running and most comprehensive study of forest fragmentation ever undertaken, the Biological Dynamics of Forest Fragments Project (BDFFP) in central Amazonia, the only experimental study of tropical forest fragmentation in which baseline data are available before isolation from continuous forest took place.

A joint project of Brazil's National Institute for Research in Amazonia and the U.S. Smithsonian Institution, the BDFFP has investigated the many effects that habitat fragmentation has on plants, invertebrates, and vertebrates.

The Anthropology of Love and Anger: The Aesthetics of Conviviality in Native Amazonia


This unique work draws on close analysis of the egalitarian communal way some Amazonian peoples live to show how they produce and maintain a deeply cherished, tranquil and intimate life.

The contributors reveal that (western) representations of these cultures are more often than not misleading or incorrect, labeling these peoples as primitive, "warlike" and fierce when in fact their lives are based on love and conviviality.





You can comment on this page about the Amazon Rainforest, Brazil, or write about any other beautiful place in the world.

To do this, please use the following form and contribute to this page. It is good idea to leave your email address so you can receive replies to your comments.

PLEASE BE ASSURED, no one of the commentators will capture your email address. It is only that the system that will send you notifications about replies to your comments, as this process is automated. Thanks to Site Build It 2.0

I have some gifts for you too for sharing your words about the Amazon Rainforest or just about any beautiful site in the world. Thanks.
Have A Great Story About Some Beautiful Sites in the World?
Do you have a great story about any beautiful site in the world? Share it!
What Other Visitors Have Said
Click below to see contributions from other visitors to this page...

Amazon Rainforests! Not rated yet
This area of the Amazon rainforests is the richest of the planet fauna and flora. Not only that, but the integrity of the Amazonian indigenous people …


Search inside Amazon Rainforest, Brazil, Latin America.


You can also enjoy more activities here indeed if you liked this page about Amazon Rainforest, Brazilia, Latin America.
Please share it with your services through the buttons here, at the left column of the page or at the bottom of the page.
This could be also additional value to you, as you could experience some social networking technologies and know more. Click on "Enjoy this page? Please pay it forward" at the bottom to know how to link to the website.

I use "Site Build It" tools at the bar below to empower this page about Amazon Rainforest, Brazil, Latin America and the entire 100 Beautiful Sites in the World. Thanks to those strong website building and optimizing tools.
---
100 Beautiful Sites in the World
|
100 Beautiful Sites Blog
|
Beautiful Site Map
|
Beautiful Scene Newsletter
|
Contact Beautiful Sites
|
Any Beautiful City
|
Amazon Rainforest
|
Amman
|
Battery
|
Beijing
|
Chicago
|
Congo River Basin
|
Dalarna
|
Ganges Delta
|
Gondar
|
Indus River
|
Kalahari Desert
|
Kilimanjaro
|
Kordofan
|
Lake Chad
|
Madagascar
|
Monteverde Cloud Forest
|
Niger Delta
|
Norwegian Tundra
|
Okavango Delta
|
Olympia
|
Paris
|
Rotterdam
|
Rub al-Khali
|
Sagarmatha National Park
|
Saint Louis
|
Sulu Sulawesi Sea
|
Timbuktu
|
Trinidad
|
Upper Po Valley
|
Venice
|
Zahara de la Sierra
|
User Interface